Registered dietitians work in the treatment and prevention of disease (administering medical nutrition therapy as part of a patient's medical plan), in hospitals, clinics, private practice or other health-care facilities. In addition, a large number of dietitians work in community and public health settings and academia and research. A growing number of registered dietitians work in the food and nutrition industry, in business, journalism, sports nutrition, corporate wellness programs and other non-traditional work settings.
UL Lafayette's didactic program in dietetics provides a strong curriculum to prepare students to become leaders in the field of dietetics. We focus on courses relating to scientific and evidence-based practice, professional practice expectations, clinical and customer services, management and use of resources, and knowledge underlying the requirements for the didactic program in dietetics.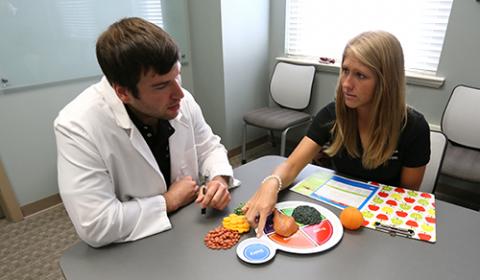 Our faculty and staff are committed to excellence in instruction, advising, research and scholarship, and helping students achieve success, not only in the classroom, but involvement of students in leadership roles in professional organizations, employment, and community services. These efforts elevate the students' learning experience and serve to enhance the dietetic workforce in the region through program improvement, recruitment, retention, and advising efforts.