Nursing students are Giving H.O.P.E. to community members
Fri, 05/03/2019 - 7:45am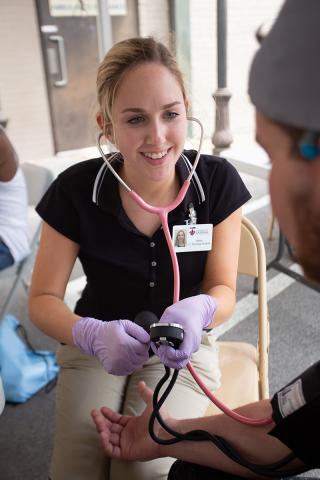 The Giving H.O.P.E. (Homeless Outreach Providing Essentials) event was established in 2018 to improve nursing students' understanding of community health and experience learning beyond the hospital/healthcare setting. The HOPE project provides service-learning while assisting the homeless and gives UL nursing students the opportunity to collaborate with local businesses inside and outside the healthcare profession to meet the needs of the homeless.
The first outreach in the spring semester of 2018 provided over 2,836 services and essentials to over 215 homeless in a matter of five hours. Health screenings provided by junior nursing students included blood pressure, vision, body fat analysis, diabetic screening, BMI, and hypertension education. Students were also able to distribute essentials to their patients included shoes, socks, reading glasses, shirts, backpacks, blankets, and raincoats.With the support of over 20 outside organizations, other necessities including haircuts, foot care items, food, and toiletries were provided. In addition, a local business provided lunch for all attendees.
Due to the overwhelming success of the project, the event is now being conducted each semester, providing students the opportunity to become engaged with this vulnerable population outside of a healthcare setting.