'Community' Nursing: Students leave campus to broaden perspectives on care
Wed, 04/24/2019 - 12:19pm
"This is the most people I've had in the house in ages. It's usually just me and Maggie."
"Miss Pauline" surveys her Lafayette living room. It's filled with visitors. Sitting in a red and blue striped armchair that envelops her 4-foot-9-inch frame, the 96-year-old isn't complaining. Neither is Maggie, an aged schnauzer that bounces happily among the new faces.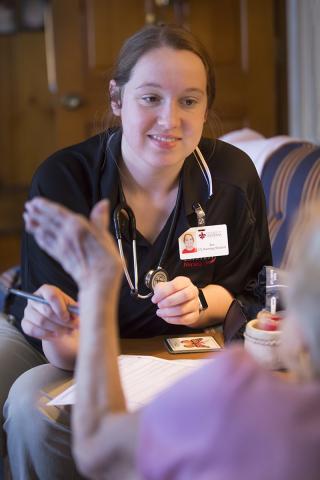 Nursing student Zoe Ainsworth runs her fingers through the dog's grey coat. Being attentive to Maggie is a way to build trust with "Miss Pauline," so Ainsworth references the pooch a few times as she proceeds to check her patient's blood pressure, respiration and pulse. She gently reaches beneath the nonagenarian's shirt, and presses a stethoscope against her stomach to listen for digestive sounds.
Ainsworth is enrolled in Nursing 340, the formal name for a course that requires a personal touch. As shorthand, students and instructors call the class "Community."
The moniker reflects concisely what the course entails: it takes second-semester juniors in the College of Nursing and Allied Health Professions out of a hospital setting where they perform clinical work and puts them in grocery stores, jails, homeless shelters, libraries, businesses, parks, living rooms and in an on-campus clinic.
The students meet a myriad of people and offer health screenings, information on diet and exercise, and at times, help with technology.
During her home visit with "Miss Pauline," for example, Ainsworth showed her how to text iPhone photos of Maggie to friends and family. The point of "Community" is to treat the whole person, not just an ailment.
Dr. Lisa Broussard, head of the college's Department of Nursing, said it's an important lesson. "People always think of nurses as taking care of sick people in the hospital. So it's really good for our students and the community to understand the wide role nurses play," she said.
The course encompasses several elements: Wellness Wednesday, a free clinic available to University students, faculty and staff; community outreach, which includes health promotion events; and Community as a Client, a semester-long examination of Acadiana municipalities to discover what's ailing residents. Students also do rotations in area psychiatric facilities. 
Dr. Jessica McCarthy is a nursing instructor, one of four who taught the course in the spring. She said it enables student nurses to experience "the dynamics of vulnerable populations," – the elderly, prisoners, the homeless and children – so they'll be better prepared to help a wide audience when they enter the profession.
"A lot of times, nursing graduates will go right into the hospital to work and they don't realize what needs are out there," McCarthy continued. "They may not have worked in these populations, but when they go into a hospital setting, they will."
Students also conducted basic screenings for some inmates at the Lafayette Parish Correctional Center. For eight hours, they checked vision, hearing, pulse and blood pressure and made other health assessments.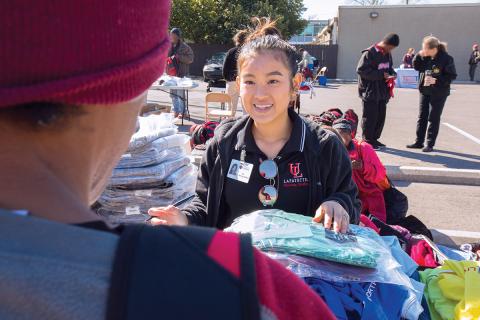 At the conclusion of each week's work, students filled a first-floor conference room at V.L. Wharton Hall on campus to recount their experiences and share what they learned. 
McCarthy gave an example of the kind of feedback instructors receive. "Let's say you have inmates who are in the hospital. One of the big things students mention about the jail is that it's closed. There are no windows. So, what is one of the most important things to that inmate when he goes into the hospital? Opening the blinds, so they can see the light."
Every nurse should have respect for patients and the ability to quickly adapt to changing situations. are attributes every nurse should have. The Community course emphasizes both, said nursing junior Margaret Pellerin. "They always say to be prepared for the unexpected in nursing. You cannot go into a day of nursing and have your day planned. You can have an idea, but that's not how it works out at all."
Pellerin was taking a break during her shift at Wellness Wednesday. It was a busy morning during a busy spring semester. The clinic provided nearly 1,700 screenings in the nine days it was open. In 2017, nursing students performed 3,500 screenings at the clinic alone, and provided just short of 10,600 individual services across the course's three facets.
The screenings the clinic provides focus on preventive health, while the University's Saucier Wellness Center treats students who are ill.
The clinic's three examination rooms are filled with exam tables, scales, and equipment for testing hearing and vision. Eye charts and anatomy posters cover the walls. Forget about its location in Wharton Hall, and it could be any doctor's office, anywhere.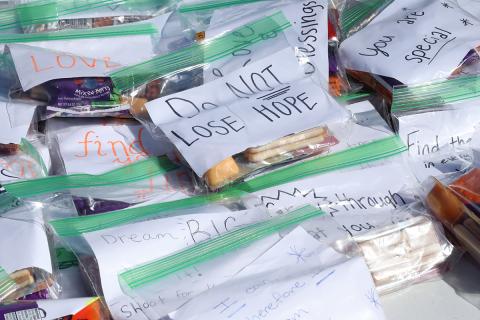 Bailey Romero was on the same Wellness Wednesday shift as Pellerin. A few weeks earlier, she and her classmates taught first-graders the value of oral health as part of the course's Community as a Client requirement.
Through observations and interviews with pharmacists, elected officials, doctors, school counselors, business owners, clergy and first responders, student teams compile data, diagnose a town's greatest health need, and then engage in a service learning activity to promote healthy habits. In the spring, they visited 16 communities and offered wellness education sessions in each.
The town Romero's group visited doesn't have a dentist's office. So, using a comically large set of teeth, they demonstrated proper brushing techniques at the elementary school there.
"Community is a difficult concept to grasp," Romero said, explaining that it requires nursing students to shift mindsets. Rather than focusing on patients when they are ill, as taught in clinicals, the Community course emphasizes prevention through assessments and education. 
"Nurses don't just treat someone in a bed in a hospital room. It can be a difficult concept, but it's important."
Dr. Deedra Harrington, an assistant nursing professor, said the interactions student nurses have with the public during the course teach them to "treat the person and not their situation."

"We expose them to all facets, so when they see people in the community, they see them as part of the community. Whether they live on the streets, they live in the jail, or they live in a mansion – we care for them all."
Written by James Savage.
Photography by Doug Dugas.
This article first appeared in the Fall 2018 La Louisiane, the University of Louisiana at Lafayette magazine.